QuickSync: A simple file synchronizer, batch copier/mover/updater.

Download QuickSync.zip If you use the software please consider donating on the home page.

QuickSync is designed to synchronize files between multiple computers, PC and CarPC, PC and Android, or as a simple fast backup.
Use it to sync music, offload GPS logs, pictures, videos and sound recordings daily, or as a routine multi-folder copy.

Version 1.01 6/11/11: Quicker abort and better progress indicator
Version 1.00 4/21/11: A baby is born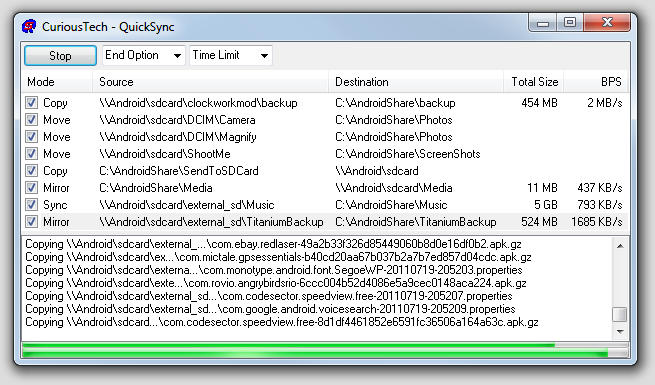 Right-click an item in the list for context menu options:
Modes ->:
Copy: Copies newer files or files that don't exist in destination.
Mirror: Same as Copy plus removes any files in destination that don't exist in source.
Move: Same as Copy, then deletes the source after successful copy.
Sync: Copies newer files or files that don't exist in either direction.
Delete removes a sync item from the list.
Up and Down moves the selected sync item up or down in the queue list.

Start: Begins the process.
Only items checked will be processed. Uncheck to skip.

Stop: Stops the operation after the next file is finished.

End Option:
Close: Begins copying when the program starts, and exits when done.
Shutdown: Shuts down Windows when complete.
Hibernate: Hibernates when complete.

Time Limit:
The process will end when the time expires or it completes.
If the above options are selected it will close, shutdown or hibernate.
The progress bar is calculated on previous runs, so it can be inaccurate at times.

How to set up sync items:
To set up a pair of folders to synchronize, you must first drag and drop the source folder or disk over the application, then drag and drop the destination. Continuing to drag folders will create more pairs to synchronize.

To copy individual files, first drop the source file then the destination folder. Use this to collect multiple files from all over into one folder with a single click.

Creating multiple profiles:
A file named QuickSync.qsp will be created in the same folder as QuickSync.exe. Rename this after closing the application. Double-click it and associate it with QuickSync.exe. Run QuickSync again to start a new default profile.

Tips:
When deleting or renaming files in the source Sync folder, switch to Mirror to mirror the changes, then switch back when complete.

If any entry contains a network path, QuickSync will pause and wait on the network path to become available.
Use the time limit to conserve power by limiting the amount of new data transferred per sync operation.
Copyright © 2018 Curious Technology